Update your Stores Communication with digital Signage,
Reduce Printing Cost!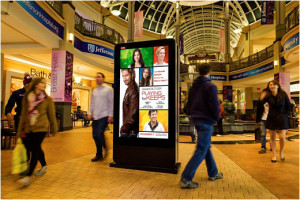 As more people eat out for lunch and dinner, restaurants with diverse functions and clientele are using digital signage to improve customer communications, upgrade menu displays, and create a livelier atmosphere for their patrons. Digital displays present a unique opportunity for restaurant owners to easily and effectively enhance their image, promote higher-end offerings, and entertain customers while they wait to be served.
Digital signage is ideal for displaying menus, daily specials, and nutrient/calorie information (increasingly required by law)
Post wine lists and other drink offerings
Earn revenue from advertising partners by displaying more ads in a smaller space and more appealing format
Save money by eliminating printing and design costs
Manage and update content easily – control multiple screens from one central unit
Digital Signage in Restaurants & Bars:
Digital Menu Boards
Vendor / Partner Advertising
Displaying Nutrient & Calorie information
Branding & Customer Entertainment
Between profits from enhanced ad revenue and savings from decreased paper use, digital signage systems show swift and strong Return on Investment ROI.
Reduce:
The cost of price and menu changes
The cost of expensive printing and shipping
Artwork and graphic design expenses
 Increase:
Awareness of upcoming deals or events
Opportunities to partner with other local businesses
Opportunities for more effective branding